"I saw bar codes at the back of my victim's neck that were sending messages to me telling me to poison her."
Catherine's PD involved hearing voices which convinced her to try to poison a work colleague.
"I put diazepam in her drinks thinking she would go off work poorly and get the sack," Catherine tells me. "She had to be removed from the situation."
She was sent to prison before being moved to a secure psychiatric unit where she was eventually diagnosed with PD.
"It's one of the darkest places in my head I have ever been, I would prefer death to that. Anytime I would prefer death to the way I felt."
Most PD sufferers are not offenders, but in the last decade it is the criminal justice system that has given impetus to the diagnosis and treatment of PD. It is estimated that 70% of prisoners have the disorder.
Today there are a number of psychological therapies approved by the National Institute for Health and Care Excellence (NICE) that help some sufferers manage their condition.
Sarah Rose is among a group of people with PD who attend a therapy session in a GP surgery in Swindon.
The treatment helps them manage their thinking more effectively, providing mental escape routes when emotions threaten to become damaging or potentially catastrophic.
"The stress I experience triggers emotions and automatically I just want to kill myself. Now I know that there is something I can do before that," she explains.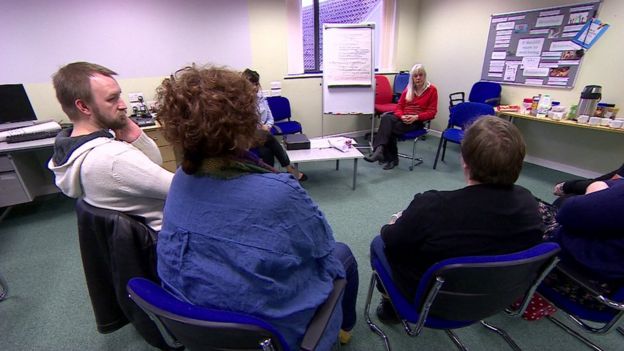 "It's been a lifetime of trauma, sexual abuse, rape, that brought me to literally caving in and thinking what the hell is going on," reveals one woman. "Coming here – it's saved my life", says another. "Coming to a (PD) group like this, you are not alone," another woman explains. "The label isn't helpful but there are commonalities."