One of the times Gwendolyn Prebish tried to kill herself, she laid down on the tracks running behind her parents' house in the Philadelphia suburbs. She survived three cars of a commuter train running over her body. She tried to take her life three times in 2016 alone.
Prebish, now 28, has struggled with mental health disorders since she was a small child. Currently held in jail and facing years in prison, she has finally regrown eyelashes after years of systematically pulling them out. Prebish has been diagnosed with borderline personality disorder, anxiety, depression, and PTSD—struggles that, in recent years, have been compounded and soothed by her addiction to opioids.
Today, she is facing a drug-induced homicide charge and could be sentenced to as long as 40 years in prison for providing Michael Pastorino, a fellow user in a Philadelphia suburb, with fentanyl, a powerful synthetic opioid that ultimately killed him. Her parents, David and Lisa Prebish, recently greeted me at their home in suburban Montgomery County. Surrounded by family photos, they offered me an iced tea and recounted their daughter's story.
"It's a horrible fact that somebody died," Lisa told me, apologizing for crying. But "she didn't actually kill anybody … I feel like Gwen's being prosecuted because she survived. Because she used the same thing that she gave him."
Montgomery County District Attorney Kevin Steele sees things differently. Like a growing number of prosecutors nationwide, in response to fatal overdoses, he is charging the person who delivered the drugs, the purported "dealer" who is often also a fellow user, with a drug-homicide charge.
"You give a drug to someone and they die as a result of the drug, you are on the hook for drug delivery resulting in death," Steele said in a statement after Prebish was charged. "Drug dealers need to know that they are killing people, and they will be held criminally responsible."
As German Lopez reports at Vox, states have begun dusting off old drug-homicide statutes lately. And at least 16 have "passed laws in recent years that stiffened penalties for opioids painkillers, heroin, or fentanyl." Most laws are targeted at drug sellers, a category that is expansively defined. The federal government and, according to a recent report from the Drug Policy Alliance, 20 states have drug-homicide statutes on the books, with a large number of charges filed from Wisconsin and Ohio to New Jersey and North Carolina. And legislators in at least 13 states introduced bills this year to create or heighten punishments for drug-induced homicide.
Joan Pastorino, Michael's mother, met me at a diner in the Montgomery County suburb of Conshohocken and told me about the day her brother walked upstairs and found Michael in his bedroom. When he told her Michael was dead, she felt like she couldn't breathe: "I can't even describe the feeling."
Joan had already lost a son to an opioid overdose. Six years before Michael died, he had been the one to find his brother, Andy, dead in his bedroom. That was not long after their father, Joan's husband, died from a brain tumor. Now there was just Joan, her daughter, and the little girl that Michael left behind.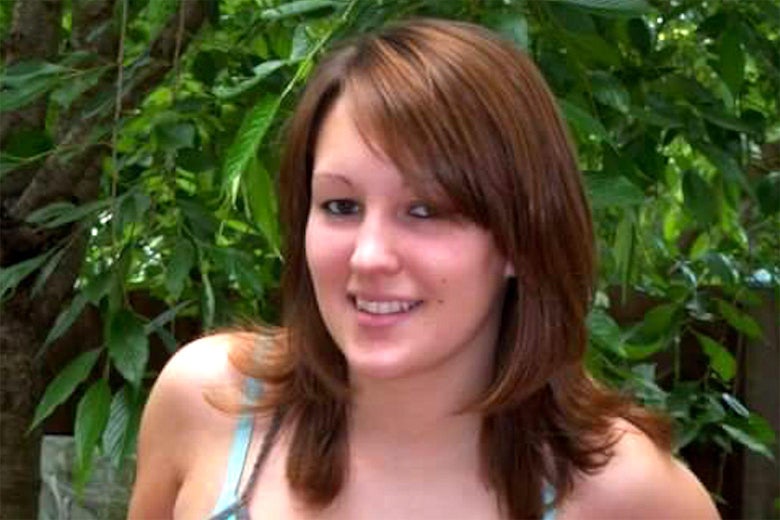 When the police arrived to Joan's house on the evening of Nov. 6, 2016, they found Michael sitting at his desk holding a syringe in his left hand. They recovered his cellphone, two wax baggies stamped "Ferrari," and two benzodiazepine pills. On Michael's phone, they discovered text messages with Gwendolyn Prebish.
Michael had asked Gwendolyn if she could stop by his house with four "jawns," Philly slang that can refer to just about anything. She agreed. Michael then asked her how long it would take, and asked her please not to forget about him. She responded to ask if he had $40. Close to 2:30 a.m., she texted again. She was about to pull up to his house with her dog in tow.
The next day, someone, apparently the police, texted Gwendolyn from Michael's phone, pretending to be Michael. She replied by asking him if he had money for heroin—she says she needed money to drive into Philadelphia and buy a bundle that she could not otherwise afford. "Mike" told her that his friend wanted some, she wrote me from jail, and she began receiving texts from somebody who identified himself as Bill. Soon after, Gwendolyn sold a police source four blue wax baggies of the suspected heroin marked Ferrari in a sting. Prosecutors will likely point to this second sale to argue that Gwendolyn is not a sympathetic user but rather an incorrigible dealer. But according to Gwendolyn, it proves nothing.
The prospect of selling to a stranger had made her nervous. "I was real angry at first because they were blowing up my phone while I was working, and I didn't want anyone except Mike knowing I snorted dope." But she dreaded the looming prospect of going through withdrawal at work, so she went to hand over the baggies and got arrested.
A little over a week later, police received the lab results on the drugs Gwendolyn had in her possession the day of her arrest. It was fentanyl, the substance which, along with heroin, was determined to have killed Michael.
Michael's mother Joan doesn't know how she feels about the prosecution and knows little about Gwendolyn: "Do I feel it's fair? Yes and no. I'm in between … I don't want to judge. It is what the law says it is." But she also knows that prosecuting Gwendolyn won't do much good—it certainly can't bring her son back. "They're using her as an example," she said. "I don't believe it's going to change anything."