My daughter, Ashlynn, just celebrated her 4th birthday. It was a milestone I didn't know if she would reach.
When you look at her picture, you couldn't guess that she was fighting for her life before she was ever born. She was diagnosed with gastroschisis at my 20-week ultrasound.
What is gastroschisis, you might ask? Or maybe you know about it due to the CDC releasing a study about gastroschisis in January 2016. Fourteen states participated in reporting on the prevalence of gastroschisis from 2005 to 2012. Those 14 states showed a 30 percent increase in gastrsochisis. According to Avery's Angels, "gastroschisis is a birth defectthat causes the intestines to protrude from a hole in the abdomen… Occasionally, other organs are involved as well. This must be repaired surgically after birth, although surgery is not always possible immediately and depends on other factors…" Avery Angel's also states there is a 10 percent mortality rate due to complications or related defects and infections. Some babies born with gastroschisis can also have longterm issues.
Avery's Angels Gastroschisis Foundation (AAGF) provides support for families and helps promote research. This foundation was created by Meghan Hall, whose son Avery was born was on April 14, 2009 and passed away from gastroschisis complications on July 30, 2009. Just months after her son passed away, she launched AAGF. She wanted to help promote research and support families all across the globe who have been affected by gastroschisis.
My daughter was born at 36 weeks due to being induced because she stopped practice breathing and moving. Ashlynn weighed 5 pounds, 15 ounces. Ashlynn spent 23 long days in the NICU. We were so happy when she came home, but unfortunately, during the first couple of months out of the NICU, we would be readmitted two times, each admission lasting two weeks. They diagnosed her with slow motility, severe reflux, constipation and a hital hernia. In her second hospital stay, she had a nasojejunal (NJ) tube placed. An NJ tube goes in through the nose and all the way down to the small bowel. They hoped this would help her. It didn't, and she ended up needing surgery.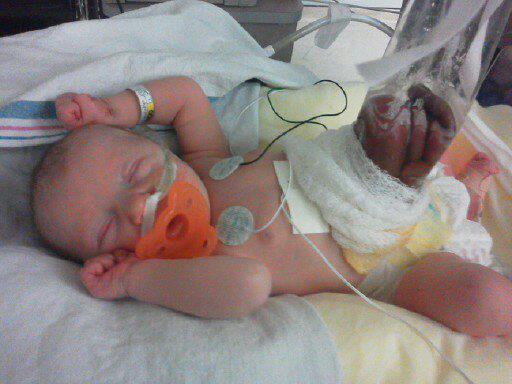 At just 3 months old she had a hital hernia repair (damage caused by her acid reflux), a fundoplication surgery (wraps the stomach to prevent the stomach acid from coming back up in chronic acid situations) and a gastrostomy (G) tube placed into her stomach (which was then removed when she was just over 1 year old).
The past couple of years we did deal with complications due to slow motility and severe constipation. It got to the point of needing to be admitted to the hospital for cleanouts. A cleanout required a nasogastric (NG) tube to be placed through her nose and into her stomach. And medicine pumped through it to help clean her out. We haven't had to deal with that since last year.
Ashlynn has one of the less severe cases of gastroschisis. Even so, she can still have issues down the road, such as abnormal bowel rotation and adhesions can cause
pain and/or blockages years after surgery.
Ashlynn is one out of every 2229 babies born with gastroschisis per year in the U.S. This rare disease is on the rise, and we need to have more awareness about it. Help us spread awareness about #gastroschisis and #averysangels.